We offer telephone initial consultations!
Free 1/2 Hour Initial Consultation for New Potential Clients
Call (715) 842-2162, Schedule Now Online, or Email Us to schedule a consultation!
Find Us at 3544 Stewart Ave Wausau, Wisconsin
west of Menards and O'Malley Honda at the corner of Stewart Ave and 36th Ave.
Office Hours: 9:00 am-5:30 p.m.



Our Top Wausau Bankruptcy Lawyer and Our Aggressive Central Wisconsin Tax Attorney can help you today!
When you are in trouble because of

overwhelming debt,

foreclosure,

garnishments,

tax debts or audits,

student loans,
or you need help

creating a will or trust,

navigating probate matters,

starting a business,

collecting money owed,

contact Krautkramer & Block LLC!

We will help you

"Get your legal life in order"




Let's work together.


Contact Krautkramer & Block LLC Law Firm in Wausau, Wisconsin when you want an aggressive lawyer to advise you on chapter 7 bankruptcy, chapter 13 bankruptcy, bankruptcy alternatives, foreclosures, garnishments, tax law, estate planning, business law, or collections.

"We are a law firm and debt relief agency. We assist people with filing for bankruptcy relief."




---
Krautkramer & Block LLC
Law Firm
3544 Stewart Avenue
Wausau, Wisconsin 54401

Phone: (715) 842-2162
Fax: (715) 350-2482
Email Us
Find Us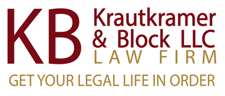 ---
Please Note: The information you obtain at this site is not, nor is it intended to be, legal advice.
You should consult an attorney for individual advice regarding your own situation.

Disclaimer Site Map